For seven consecutive days, starting Dec. 26, the congregation can celebrate the cultural contributions of people of African descent during Kwanzaa. Sponsored by the Cathedral's Pursuing Racial Justice Committee, each day of the cultural celebration features a principle of Kwanzaa and how it enables us to live out rich lives. Learn more about Kwanzaa by watching the video, "A History of Kwanzaa" produced by Cathedral member Deborah Nelson Linck.
Day 1: Umoja – Unity
The band for the new missional community, Grace African Christians Connection, performs Nigerian gospel songs "Way Maker" and "All That Matters" in December 2022 at Christ Church Cathedral in St. Louis.
Song No. 1  Way Maker : (License #21846; Licensed by Integrity Music)
Song No. 2: All That Matters: (License #21838; Licensed by Integrity Music)
Day 2: Kujichagulia – Self-determination
Quilts can be practical, welcoming and warm covers on our beds or slung over a chair. But they also whisper history through fabric and artistry. As Carolyn L. Mazloomi, curator, quilter and collector of narrative African American-made quilts says: "No one can tell our story like we can tell our story." Deborah Nelson Linck, Cathedral member, shares the stories stitched into the quilts she collects.
Day 3: Ujima – Collective work and responsibility
On October 23, 2022, the Episcopal Diocese of Missouri and Christ Church Cathedral in St. Louis hosted the first celebration of Grace African Christians Connection. Over 100 people attended. In an address at Diocesan Convention, the organizer of the missional community, the Rev. Mtipe Koggani, explains the reason behind the African-style, faith-based community. Learn more from the Rev. Koggani.
Images courtesy of Christ Church Cathedral 
Day 4: Ujamaa – Cooperative economics
Afro World still is a family business, as it has been since 1970 when founded by Russ Little Sr. It proudly sells "high quality hairpieces and fashion for African Americans." Colorful, Africa-inspired clothing hangs on racks while displays showcase face masks, T-shirts with social justice themes and other items.
The secret to the store's survival and success, despite the challenges of running a business during COVID-19?"Of course, I think it's divine intervention," says the founder's daughter Sheila Little-Forrest, one of its owners. "I also think it's just our passion. We love the community."
Over the years, that love has meant helping educate the community on issues that matter, supporting the work of African- American artists and telling our story, she says. Afro World has always done more than sell merchandise.
"For me, it's who we are," Little-Forrest says. "It connects our inner spirit. It's us staying connected to who we once were as a people and having pride in our community."
See more of Afro World by watching this video.
Day 5: Nia – Purpose
Storytelling is a part of the Kwanzaa tradition. Born and raised in St. Louis, critically acclaimed poet, playwright, literary critic and writer Jabari Asim reads from his inspiring children's book "Preaching to the Chickens: The story of young John Lewis" published in 2016 by Nancy Paulsen Books. The book celebrates "the ingenuity and dreaming big" of Lewis, a budding civil rights leader. Asim is a professor at Emerson College, where he is also graduate program director of the MFA program in the department of writing, literature and publishing. He is the author of eight books for adults—including Yonder—and 15 books for children.
Learn more about author Jabari Asim.
Day 6: Kuumba - Creativity
What's a Kwanzaa celebration without good food? According to the Food Network – Kwanzaa: The Food and Traditions, the Kwanzaa menu "can range broadly depending on family traditions, from classic African-American soul food to dishes from every point of the African diaspora. Here are recipes by the Rev. Shug Goodlow, Assistant Rector at St. Martin's Episcopal Church in Ellisville, and Cathedral member Letitia Johnson. Enjoy!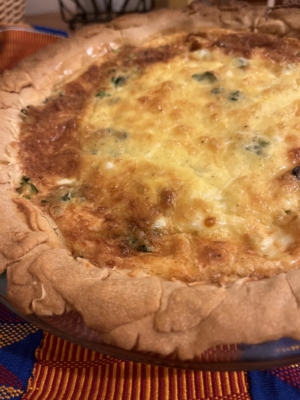 Shug's Collard Greens and Bacon Quiche
6 large eggs, beaten
1½ cups heavy cream
Salt and pepper to taste
2 cups chopped collard greens (thaw first if using frozen)
1 lb. turkey bacon, cooked crisp and crumbled
1½ cups shredded Swiss cheese
1 9" pie crust (from scratch or refrigerated), best in a glass pie dish
Preheat oven to 375 degrees
Mix the eggs, cream, salt and pepper in a blender, food processor or by hand with a whisk. Place the bacon on top of the pie crust. Next, layer the collard greens on top of the bacon. Then layer the Swiss cheese on top of the collards and bacon. Pour the egg mixture on top. Gently shake the pie dish just a bit so the egg mixture settles.
Bake for 35-45 minutes until the egg mixture is set. Remove from the oven and let sit for a few minutes before cutting.
Letitia Johnson's Gizzard Stew/Stir Fry
Quantity of gizzards will depend on number of your party-average 4 packs or 5 lbs. for a party of 10-15
2 or 4 bell peppers sliced
2 large onions diced or chopped or sliced
4 cloves of garlic diced
1/2 teaspoon ginger
Black pepper to taste
White pepper to taste
Fresh or dried thyme to taste
Abodo seasoning or seasoning of choice to taste
Tomato paste or sauce, or fresh tomatoes diced
Directions
Check gizzard for excess fat and skin, cut open any attachments; if you purchase from a grocery store, or butcher, rub with vinegar and sea salt to remove mucus and stomach odor, rinse thoroughly. Drain as much of the water as possible before bringing to boil for at least 30 minutes or until tender on medium heat.  Once gizzard is fully cooked and tender, in a medium or large saucepan, heat 2 to 4 ounces of oil of choice; depending on quantity of gizzard, deep fry for five minutes to drain all liquid, any liquid left after boiling can be set aside and added to the sauce after you sauté the other ingredients. Sauté sliced bell peppers on medium heat for 7 to 10 minutes. Add onions, diced tomatoes, cloves of garlic. Sauté until fully cooked and well textured on medium heat. Add 1 can of tomato sauce for color if desired. Add ginger, black pepper, white pepper, thyme seasoning, salt to taste; pinch of regular salt if desired. Add remaining liquid from boiling, put fried gizzard back in the saucepan with sautéed ingredients and let cook for 5 to 10 minutes. Let stand after you turn off the stove for 5 minutes and serve.
For Stir Fry
Follow exact recipe, do not overcook ingredients. No liquid should be added back. After sautéing the stir fry ingredients add gizzard, and sauté for 5 minutes.
Dish is served over your choice of rice.
Day 7: Imani – Faith
The Right Rev. Deon Johnson, 11th Bishop, Episcopal Diocese of Missouri, closes out our celebration with a reflection on Kwanzaa's wisdom and how our community is better for it.