For seven consecutive days, starting Dec. 26, the congregation can celebrate the cultural contributions of people of African descent during Kwanzaa. Sponsored by the Cathedral's Pursuing Racial Justice Committee, each day of the cultural celebration features a principle of Kwanzaa and how it enables us to live out rich lives. Learn more about Kwanzaa by watching the video, "A History of Kwanzaa" produced by Cathedral member Deborah Nelson Linck.
Day 2: Kujichagulia – Self-determination
Quilts can be practical, welcoming and warm covers on our beds or slung over a chair. But they also whisper history through fabric and artistry. As Carolyn L. Mazloomi, curator, quilter and collector of narrative African American-made quilts says: "No one can tell our story like we can tell our story." Deborah Nelson Linck, Cathedral member, shares the stories stitched into the quilts she collects.
Day 3: Ujima – Collective work and responsibility
For nearly five decades, Dr. Huldah Blamoville has largely served the African-American community in St. Louis as a pediatrician at the same location. Now Dr. Blamoville, a member of Christ Church Cathedral, is retiring.
Why did Dr. Blamoville become a doctor? From an early age, she was taught by her family that community involvement and higher education were worthy pursuits. She laments, from her childhood, the premature and sudden death in a hospital of her sister.
Most notably she talks about access to care for the residents of North St. Louis.
"People are people," says Dr. Blamoville who has been affiliated over the decades with several of St. Louis' largest hospitals. "They need the best care from whatever medical person they can get. It should not be based on what you look like and who you are."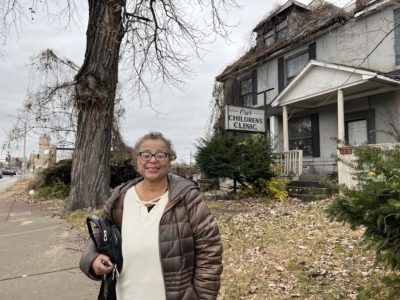 Day 4: Ujamaa – Cooperative economics
Afro World still is a family business, as it has been since 1970 when founded by Russ Little Sr. It proudly sells "high quality hairpieces and fashion for African Americans." Colorful, Africa-inspired clothing hangs on racks while displays showcase face masks, T-shirts with social justice themes and other items.
The secret to the store's survival and success, despite the challenges of running a business during COVID-19?"Of course, I think it's divine intervention," says the founder's daughter Sheila Little-Forrest, one of its owners. "I also think it's just our passion. We love the community."
Over the years, that love has meant helping educate the community on issues that matter, supporting the work of African- American artists and telling our story, she says. Afro World has always done more than sell merchandise.
"For me, it's who we are," Little-Forrest says. "It connects our inner spirit. It's us staying connected to who we once were as a people and having pride in our community."
See more of Afro World by watching this video.
Day 5: Nia – Purpose
Storytelling is a part of the Kwanzaa celebration tradition. Following is a short story written and read by Gladys Kee, the mother of a Christ Church Cathedral congregant, who was born in 1937 in the segregated South, in particular, Louisiana. Her short story is about purpose which she developed early.
Day 6: Kuumba - Creativity
The Cathedral's soul food brunch is one of the highlights of our fellowship, just as food and sharing are significant to Kwanzaa. Here is a recipe by the Rev.Shug Goodlow, Assistant Rector at St. Martin's Episcopal Church in Ellisville. Enjoy!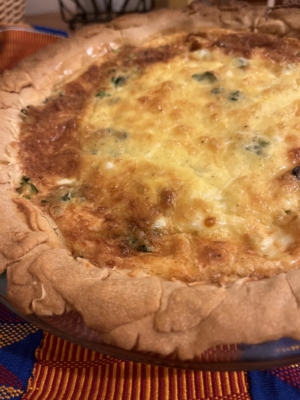 Shug's Collard Greens and Bacon Quiche
6 large eggs, beaten
1½ cups heavy cream
Salt and pepper to taste
2 cups chopped collard greens (thaw first if using frozen)
1 lb. turkey bacon, cooked crisp and crumbled
1½ cups shredded Swiss cheese
1 9" pie crust (from scratch or refrigerated), best in a glass pie dish
Preheat oven to 375 degrees
Mix the eggs, cream, salt and pepper in a blender, food processor or by hand with a whisk. Place the bacon on top of the pie crust. Next, layer the collard greens on top of the bacon. Then layer the Swiss cheese on top of the collards and bacon. Pour the egg mixture on top. Gently shake the pie dish just a bit so the egg mixture settles.
Bake for 35-45 minutes until the egg mixture is set. Remove from the oven and let sit for a few minutes before cutting.
Day 7: Imani – Faith
The Right Rev. Deon Johnson, 11th Bishop, Episcopal Diocese of Missouri, closes out our celebration with a reflection on Kwanzaa's wisdom and how our community is better for it.