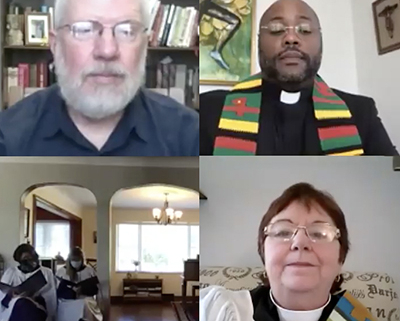 In-person services are suspended during this health crisis.
Instead, we worship by Zoom Webinar, and the service is
followed by a 15-minute Zoom coffee hour.
When you join the service, you may be asked for your name
and email address, but that information will not be shared.
After the service, grab your coffee or tea, and give the mod-
erator a minute to switch formats. When you join the coffee
hour, your audio will be muted, but others will be able to see
you. And you will be able to see and wave to them. The mod-
erator will then randomly assign you to break-out group of
four or so people, and you will be able to unmute your mic-
rophones and talk to each other.
After 15 minutes, the moderator will call all back together
for a wave good-bye.
View worship service
Join the 11:30 coffee hour
Download PDF worship bulletin
Download Word worship bulletin
Note: The links will change each week, so be sure to check.