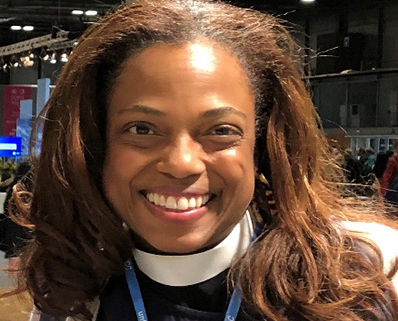 This Sunday, 1 May 2022, is Garden/Creation Care Sunday at
Christ Church Cathedral. The Adult Formation leader is The
Rev. Melanie Mullen, Director of Reconciliation, Justice & Cre-
ation Care at the Offices of the Presiding Bishop. She will
present a forum on Creation Care from 9:10AM- 10:00 AM in
hybrid format. Join the Adult Formation Zoom session.
Rev. Melanie B. Mullen
Rev. Melanie Mullen serves as Episcopal Church's Director of
Reconciliation, Justice & Creation Care – charged with bring-
ing the Jesus Movement to the concerns of the world. Prior to
joining the Presiding Bishop's staff, she was the Downtown
Missioner at St. Paul's Episcopal Church in Richmond, leading
a historic southern congregation's missional, civic, and reconcil-
iation ministries.
Before receiving her Masters in Divinity from Virginia Theolog-
ical Seminary, she studied history as an undergrad at the Uni-
versity of North Carolina, Chapel Hill, NC, with a Bachelors and
graduate program in Africana Women's Studies at Clark Atlanta
University.
Melanie worked in campaign fundraising and development,
raising more than $10 million for leadership PACs, the Congres-
sional Black Caucus, and US Congressional and gubernatorial
races from Louisiana to Connecticut; and she served as Develop-
ment Associate for the National Law Center on Homelessness
and Poverty, with a focus on poverty advocacy.