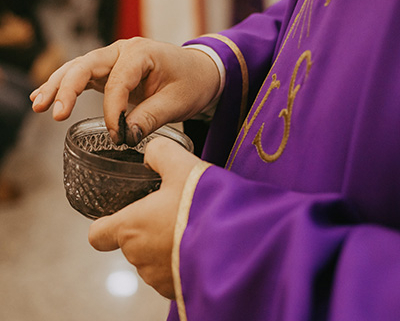 Remember that you are dust, and to dust you shall return.
BCP, pg. 265
I invite you, therefore, in the name of the Church, to the ob-
servance of a holy Lent, by self-examination and repentance;
by prayer, fasting, and self-denial; and by reading and medi-
tating on God's holy Word. Book of Common Prayer (BCP),
pg. 265.
Let us begin our Lenten pilgrimage together either on-site in
person or virtually (6:30 p.m. only). There will be three services
at the Cathedral on Ash Wednesday, each with the imposition
of ashes and the Holy Eucharist.
7:30 a.m., in-person only with no homily or music.
12:10 p.m., in-person only, Bishop Deon+ presiding with a
homily and music.
6:30 p.m., in-person and livestreamed with a homily and
music. Access the bulletin and livestream here.
Clergy will also be outside the Cathedral 13th Street doors with
ashes-to-go from 9:30 to 11:30 a.m. We will also have packets of
ashes with directions for sharing together at home.
We look forward to making a right beginning to our Lenten pil-
grimage with you.