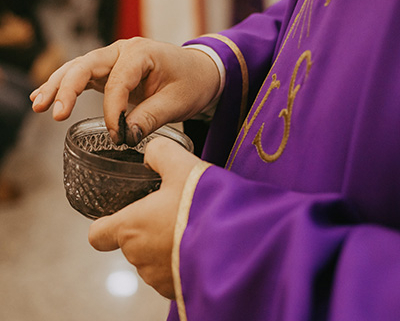 Remember that you are dust, and to dust you shall return.
BCP, pg. 265
I invite you, therefore, in the name of the Church, to the ob-
servance of a holy Lent, by self-examination and repentance;
by prayer, fasting, and self-denial; and by reading and medi-
tating on God's holy Word. Book of Common Prayer (BCP),
pg. 265.
Let us begin our Lenten pilgrimage together either onsite or
virtually. There will be three services on Ash Wednesday, March 2,
each with the imposition of ashes and the Holy Eucharist. Reg-
ister below for in-person services by midnight, Feb. 27.
7:30 a.m., in-person only with no music or sermon  – Register
12:10 p.m., in-person and livestreamed – Register
6:30 p.m., in-person and livestreamed – Register
We will also be outside the Cathedral's 13th Street entrance with
ashes-to-go from 9:30 to 11:30 a.m. We will also offer packets of
ashes and directions for sharing them at home. If you would like
a packet, but cannot come by between 9:30 and 11:30 a.m., email
Dean Kathie.
We look forward to making a right beginning to our Lenten pil-
grimage with you.