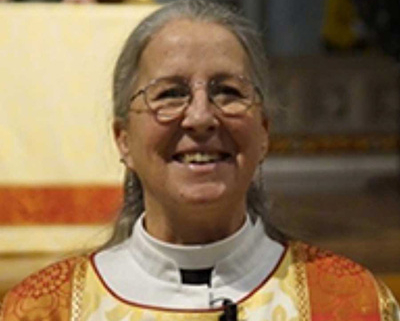 Deacon Barbi Click, Missioner for Jubilee Ministry for the
Diocese of Missouri and Manager of Trinity Food Ministry,
will return to the Cathedral as our preacher at both services
and presenter for Adult Forum Sunday, June 12.
The Adult Forum will be at 9:10 AM in hybrid format. Join
the Zoom forum here.
As Missioner for Jubilee Ministry, Deacon Barbi works for
the rights of those who live in poverty and hunger, and
those who are unhoused or poorly housed. Trinity Food
Ministry is a Jubilee Ministry Center.
The 67th General Convention of the Episcopal Church USA
established Jubilee Ministry in 1982 as "a ministry of joint
discipleship in Christ with poor and oppressed people,
wherever they are found, to meet basic human needs and
to build a just society."
The Convention directed the Executive Council to imple-
ment and coordinate with other programs of the Church as
a priority ministry. The 79th General Convention in 2018
reaffirmed that resolution.
Jubilee Ministry Centers — now under the umbrella of The
Episcopal Church's Reconciliation, Justice and Creation
Care— empower those who are poor and oppressed in their
communities by advocating for human rights and social jus-
tice and providing direct services, such as food, shelter, and
healthcare.
Scripturally, Jubilee is about forgiveness of debt, a way of
adjusting the imbalance that happens between poverty
and wealth. How often should forgiveness and reconcilia-
tion occur? Every 50 years, every seven years, every day —
if one believes that Jesus is the new jubilee.